Systemair 3D explainer video
Animated 3D video presentation of Systemair ventilation product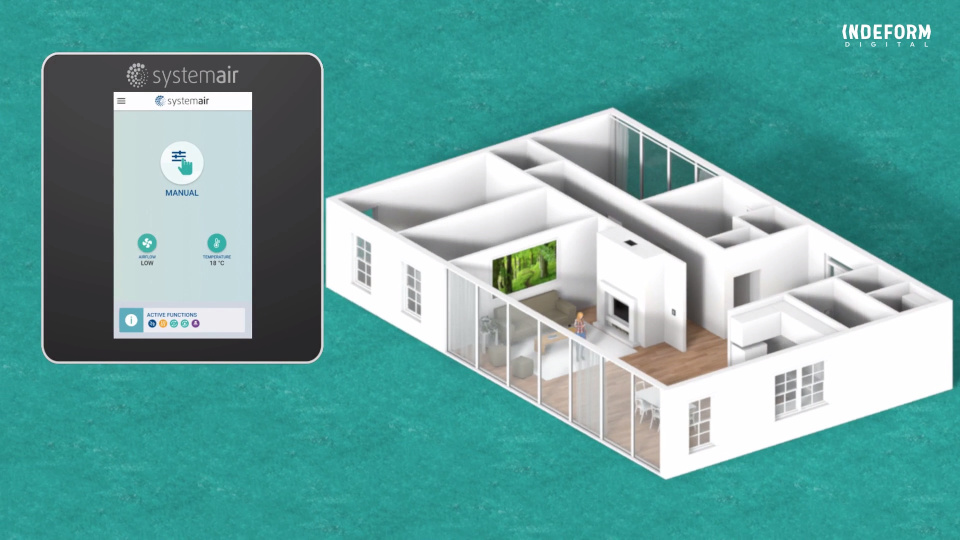 The Client
Systemair is a world-leading manufacturer of air ventilation products operating in 44 countries. They provide a wide range of energy-efficient fans, air handling units, air distribution products, air conditioning, air curtains, and heating products.
The Problem
As a company that grows every year and goes head to head with the newest technologies, Systemair introduced a smart, innovative, easy-to-use air ventilation system. They needed an attractive presentation video for their future buyers.
The Solution - 3D Explainer Video
Systemair partnered with Indeform to create an animated 3D-video presentation of an intelligent control system with a unique touch display and smartphone feel. From the very start of the design process, we decided to combine a warm, emotional, clean video featuring a family as well as infographics and 3D animation. A video explainer allows the company to showcase the best features and deliver a high level of information in just a few minutes. By producing such a video we were able to highlight the most important features of the product and to show all the processes from different angles, making it informative and understandable to every person.
Conclusion
We are always ready to help our clients improve their products by producing engaging 3D explainer videos.